Office 365 is Microsoft's cloud-based solution of e-mail, calendaring, file storage, and much more. Office 365 is available in various configurations. The picture below shows all of the functions available on the Office 365 main menu:
Outlook / Exchange e-mail including calendar, tasks, and contacts
Yammer enterprise social networking
OneDrive file storage
SharePoint online
Planner for project planning across groups of people
Power BI for rich, visual data analysis
Delve information exploration
Video capabilities to host and share
Word, Excel, PowerPoint, and OneNote online
Sway for animated presentations
Skype for Business instant messaging, web conferencing, and video conferencing
Admin tools to support your installation and users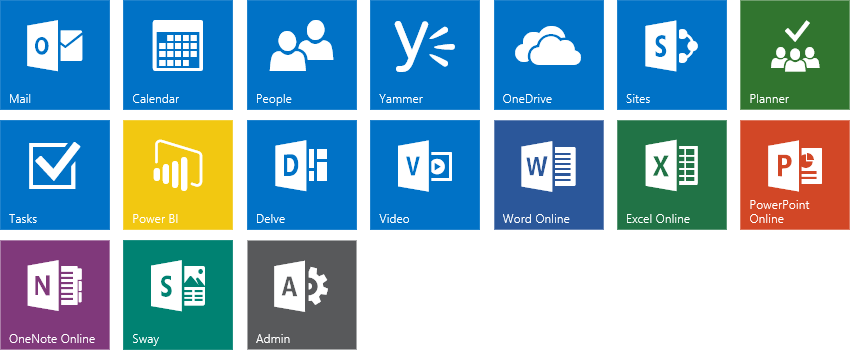 You can also include a full version of Office 2016 as part of your subscription. That gives you the ability to install Office on up to five devices.
I have been using Office 365 since it was first released. I love it. It has gotten better and Microsoft is constantly improving it. The Office 2016 applications interface seamlessly with SharePoint and OneDrive for access to your files anywhere you work. Logging into the Office 365 portal gives you access to your e-mail, calendar, contacts, to-do list, and files any time, any place.
In addition to using Office 365 for myself, I have consulted with numerous small businesses on Office 365 implementations. Like any service there are the occasional hiccups but overall the service is reliable and seldom down. Interfacing with older versions (pre-2013) of Microsoft Office can be tricky though.
I think Office 365 is the future. You always have access to the latest versions of the software. There is no need to go through periodic upgrades and conversions. As new features come out they are instantly available.
A related topic I follow is Office Graph. Click the link to the right to learn more about this powerful collaboration and knowledge sharing capability.
---