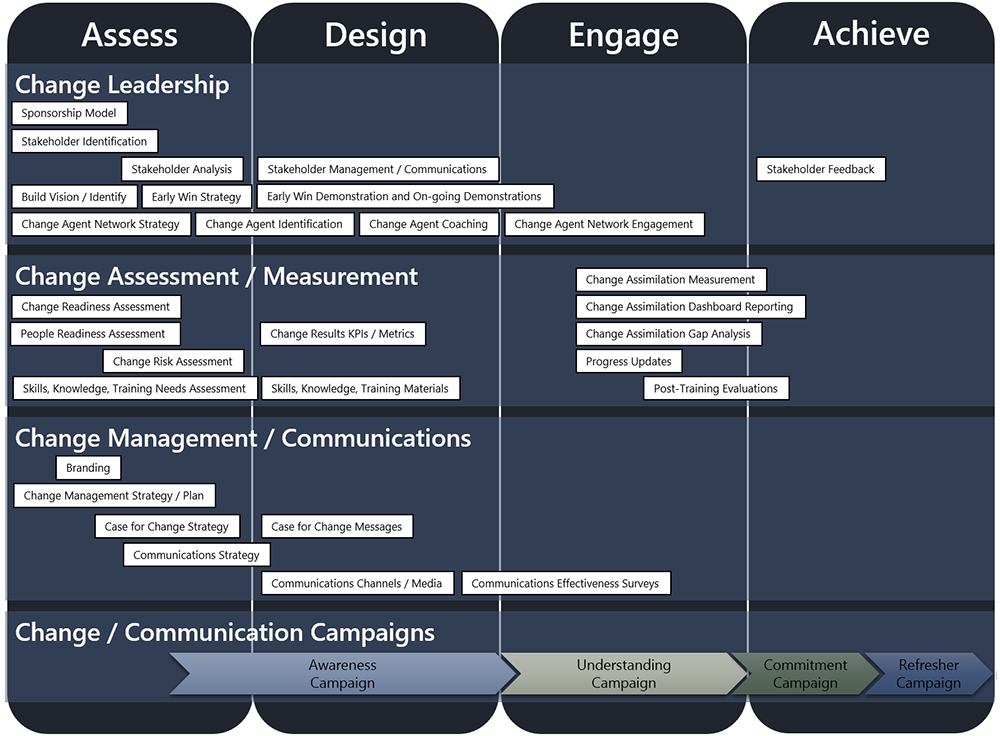 An important focus area of the Change Management Framework is the Change / Communications Campaigns. Communications are organized into four campaigns.
The Awareness Campaign sets the stage for all future campaigns. It establishes the brand and identity of your project. The Understanding Campaign builds on the key messages from the Awareness Campaign. It builds the case for change emphasizing the link between specific change and the benefits to be realized. The Commitment Campaign delivers focused messages to specific audiences that provide more detailed information about their changes and what it means to them. The Refresher Campaign reinforces the change. It builds commitment to continue forward with the change. It stresses the benefits that are being realized.
The four campaigns are always aligned and structured to support the needs of the specific project / program requirements. The campaigns often must be repeatable to support project phases or releases. Specific needs may dictate that the four campaigns overlap. The campaigns can be blended also. Frequently Awareness and Understanding are closely aligned and are consolidated into one campaign.

The images to the right depicted two applications of the communications campaigns for specific projects. The top images shows the four campaigns being sequentially applied to specific product releases. The four campaigns are repeated to meet the needs of the audiences for each release.
The second image depicts how this approach can be applied to unique project requirements. This was a large organization-wide program of work that was divided into multiple workstreams. Each workstream was comprised of a cross-functional team drawn form the organization's operating units. Each workstream had its own schedule with multiple releases. Each release had impacts on several operating units. Program management wanted to control messaging that addressed organizational benefits and interfaces between the workstreams. The workstream leaders with their detailed knowledge of their solution areas wanted to handle communications directly with the specific operating units they were impacting with each releases. The approach used consolidated Awareness and Follow-Up (Refresher) campaigns at the program level while workstreams would deliver Understanding and Commitment messaging focusing on their specific audiences. All communications were coordinated at the program level for consistency and effectiveness.